Larnaca airport is one of the two commercial airports in Cyprus – the other being Paphos International – that handles direct flights from all over the world into and out of the island. Larnaca international is Cyprus's largest airport, and as such, it witnesses a tremendous amount of daily air traffic.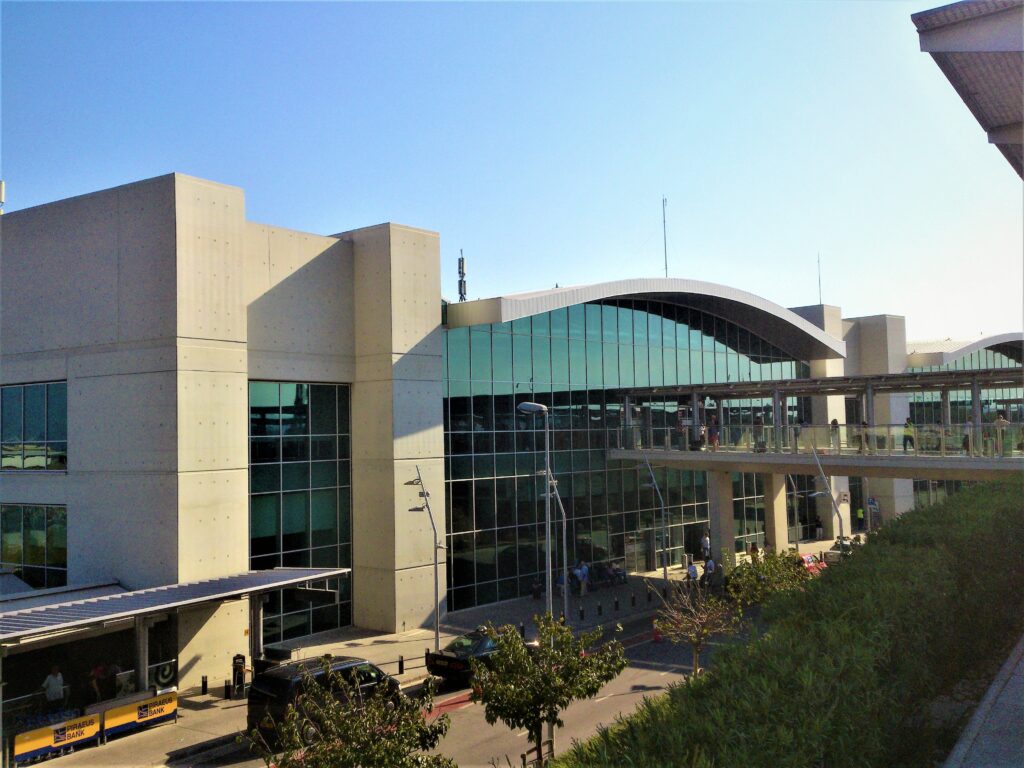 Brief History of Larnaca airport
Larnaca airport was established in the year 1974 as a replacement for the now-defunct Nicosia international airport. The airport subsequently began operations the following year with limited infrastructure due to the rush with which it was constructed and completed. And although the initial facilities were basic, the airport was deemed good enough, and it soon began to handle charter flights. The airport was subsequently expanded, and it started handling jumbo passenger jets.
In 1998, the airport witnessed massive changes, including the road network's improvement, construction of a terminal building, fire station, additional administrative offices, and a new control tower. An increase in the number of visits to Cyprus saw the need for an upgrade to Larnaca international airport, and this was carried out in subsequent years. Significant changes embarked on in 2006 further improved the standard of Larnaca airport, and the expansion of the arrivals halls ensured it could accommodate more people. This upgrade carried out in 2006 was part of a 600 million euros upgrade of both Larnaca and Paphos international airports.
Now, Larnaca airport serves more than thirty international airlines and over thirty charter airlines, the most prominent operators being Cyprus airways, which owns a significant stake in both duty-free and retail operations at the airport.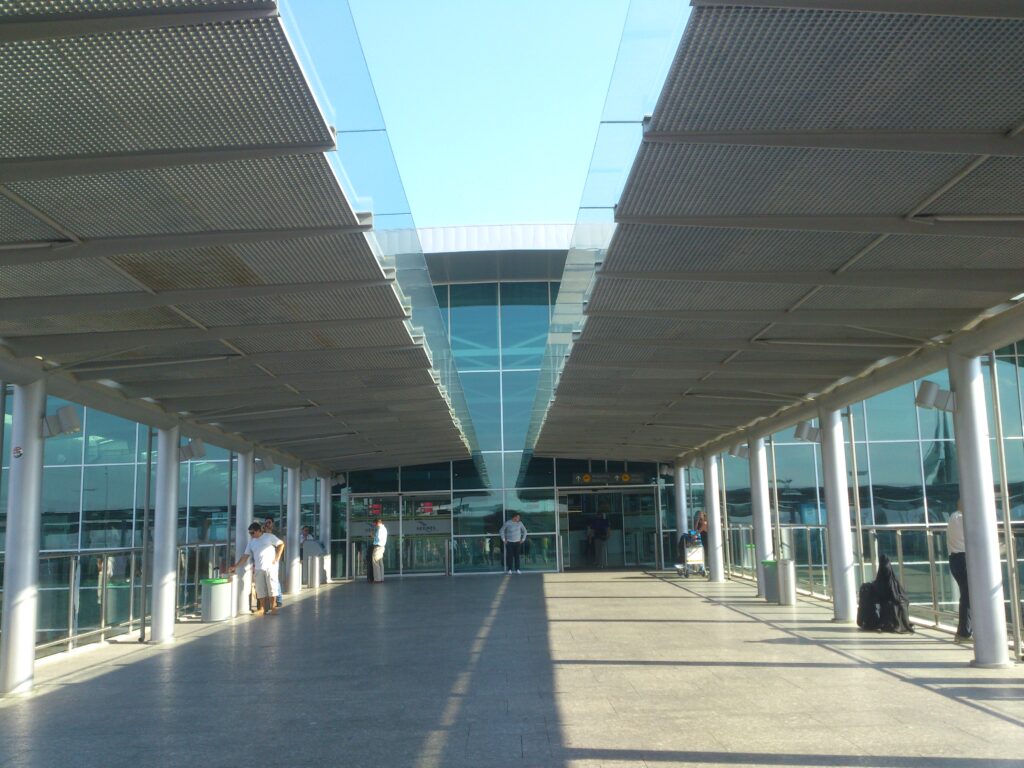 Where is Larnaca airport located?
Larnaca international airport is located approximately 4 kilometers (or 2.5 miles) south of Larnaca. The airport is a 15-minute drive from Larnaca town center, 35 minutes away from Nicosia, 45 minutes away from Limassol, and anyone driving in from Paphos will spend close to 1 hour and 30 minutes on the road.
The airport is accessible from the greater Larnaca and Ayia Napa areas of the island via the A3 highway. However, if you intend to go to the airport from Central Larnaca, you'd need to take the southbound B4 road to get there. There is a shuttle car service from both Limassol and Nicosia, which runs direct, non-stop trips to the airport daily.
The location of the airport makes it a key destination for tourists going to the popular Ayia Napa holiday resort, which is 46 kilometers away.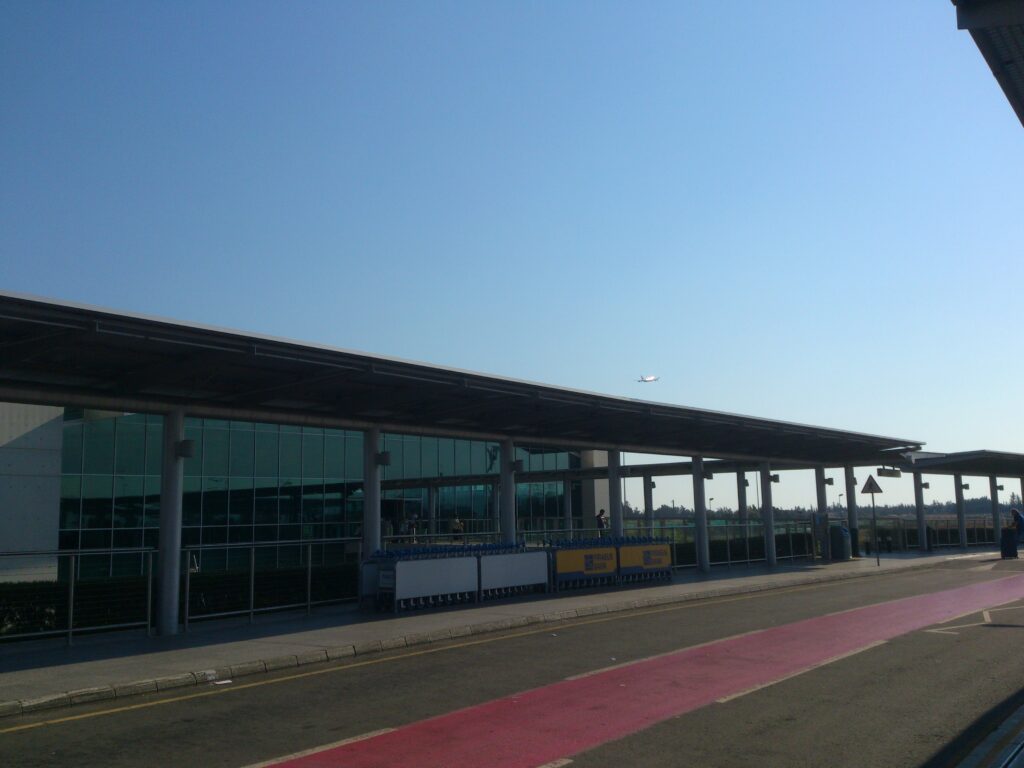 Larnaca airport structure
Larnaca international airport, today, has one world-class terminal where passengers move between ground transport and the aircraft. Also, the terminal contains excellent facilities for passengers to purchase tickets, move their luggage as well as security checks to ensure airport safety.
There is also a private terminal reserved for traveling heads of state, private aviation and cargo transport in the airport. The departures section can be found on the upper level with the lower grounds dedicated to arrivals into Cyprus. The airport has two main exits to prevent congestion.
In 2009, a new terminal building with the capacity to handle 7.5 million passengers per year was opened at Larnaca international airport. The terminal also has 16 boarding bridges, 67 check-in counters, 48 departure gates, and an impressive 2,450 parking spots. The total ground area of the airport is equivalent to that of 210 football pitches combined!
Also located on the airport grounds is a single large apron where the planes are unloaded, loaded, fuelled, refueled, and boarded. As with the terminal, there is a second smaller apron where private aircraft and cargo planes are loaded, unloaded, and boarded.
Structures at the airport also include a massive engineering hangar where aircraft are parked, a cargo terminal, and additional facilities dedicated to light aircraft. There is a plan on ground to extend Larnaca international airport's runway by Hermes Airports, the company in charge of construction works in the airport, under a 25-year concession with the Cyprus government.
Facilities available at Larnaca airport
Larnaca international airport, being Cyprus' major access point, has several facilities befitting of its status as the island's biggest airport. The majority of the facilities located at the airport today are due to the 650 million Euros upgrade completed by Hermes Airports, a French-led group, in the year 2006.
Facilities at Larnaca international airport fall into two main categories: general terminal facilities and the airport facilities. Terminal customer facilities at Larnaca airport include:
Food – the airport contains a café in its public area plus several restaurants, food shops, and a bar for those looking to grab a quick drink before or after their flight.
Cash – there is a local bank located on the departures level with provisions for foreign exchange and other services. Two ATMs situated at strategic locations in the terminal also ensure that travelers are never cash strapped.
Shopping – as with every other international airport, Larnaca airport contains several shops for customers to purchase essentials and gifts for friends and family. Shopping facilities at the airport include a bookshop (which comes in quite handy when you have a delayed flight) and a newsagent.
Baggage – the airport has a paid baggage storage service at the special baggage counter area as well as a lost and found service for missing or misplaced items.
On the other hand, airport facilities at Larnaca international include:
Internet – there is free WiFi internet access available throughouta the airport for general use.
Car parking – the central car park located in front of the airport can accommodate over 1000 vehicles, providing short or long-term parking. Overall, the airport has an impressive 2450 car parking spots available for use.
Business – Larnaca airport contains several lounges that are suitable for hosting private meetings business meetings and conferences.
Additionally, several arrangements are on ground for disabled users with the airport containing lifts, intercoms located at strategic points, ramps, and a dedicated parking space for the disabled.
Larnaca airport shuttle service
Although there is no railway service in Cyprus, there are several local buses which ply the route between the airport and the main city. You can also hail a taxi that will carry you into the city directly in front of the airport or patronize one of the several Cyprus car rentals services located within the airport and on the island.
Taxi transport from the airport to the city center and hotels is mainly by private taxi, usually available around the clock. Minibus transportation into the city is also available for those who are interested.
If you, however, plan to rent a car for your transportation around the island, listed below are some car hire tips, and by extension, Larnaca airport car rental tips to follow to avoid being overpriced or falling victim of a scam:
1. Check online reviews – Cyprus car hire agencies typically have a website where users can make online bookings, and more often than not, these sites contain a section for customers to leave their feedback. Before transacting with any rental agency, read through their reviews to have an idea of the kind of service you'll be getting.
2. Carry out a thorough inspection on the vehicle – before driving off with a rented car, ensure you carry out a meticulous examination of its parts to be sure it is not defective.
3. Read the terms and conditions – you might be in a rush to get to where you're going, or you've had a long journey and want to crash in a bed. However, it would be best if you took the time to properly go through the policies of the rental agency you plan to acquire a car from to prevent future misunderstandings.